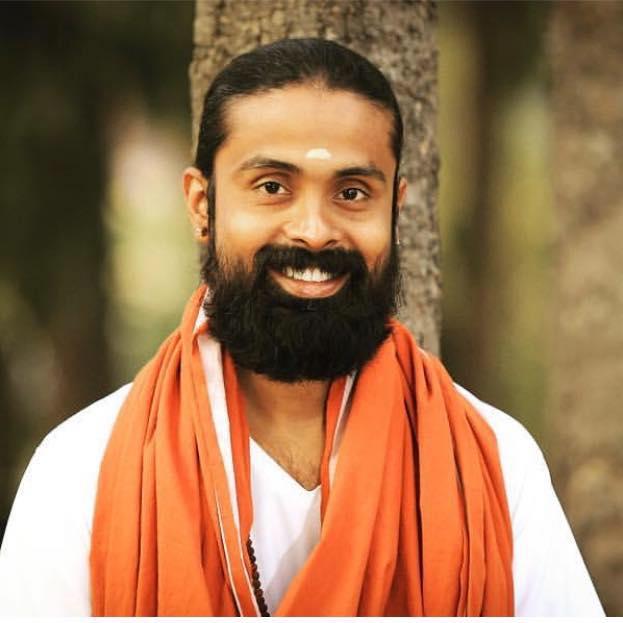 Dr. Sri Soham (Raghavendra Gowd MC)
Naturopath Doctor, Wandering Yogi, Level 3 YCB Certified Yoga Teacher Cum Evaluator, Ayurveda Panchakarma & Massage Therapist.
Dr. Sri.Soham is a nationally and internationally celebrated renowned Yoga Guru and Spiritual being known for his passionate, dynamic, creative and inspirational style of teaching that incorporates both the physical and spiritual aspects of the Yoga practice and Life skills.
Soham was introduced to Yoga and Spiritual path from his childhood days only. He was a dedicated disciple to Sri.Ramanamaharshi. He began his professional study in Yoga, Naturopathy, Ayurveda Panchakarma and Healing under many Gurus like Himalayan Yogi Sri. Sri. Yogananda Maharaj of Rishikesh, Mudra Yoga Therapist Sri.Rangaraj Iyengar and also under many yogis in Sivananda Dhanwantri Ashram.
Combing with regular Yoga practice and spiritual practices, Soham created for himself a transformational healing path "Soham Sadhana – Conscious Madness", which now he is teaching to thousands of his students all over the world who is seeking the question "Who Am I".
Soham established Soham Ayur Yoga Ashram and Yogaathma Foundation, an International non-profit, non-denominational, educational and humanitarian organization which holds Special Consultative Status with UN- ECOSOC since 2013. He has reached out to thousands of people worldwide through personal interactions, public events, teachings, Yoga workshops, and humanitarian initiatives. He has also written and published many books like Basic Yoga for Health, Healing Mudra, Yoga Teachers Manual and many. Soham regularly travels to more than 35 countries, conducting free discourses, workshops, courses and carrying his vision and universal message of creating world peace through Yoga and Smile. His work continues to evolve and is deeply influenced by many of the great traditions here.
Awards/Honours/ Credentials
Advisory Member of World Yoga Organization.
International Speaker at United Nation Conferences.
Speakers at many International Yoga and Ayurveda Conference.
Nominated as India's top 50 Thinker by MTC Global Award during 2014.
Nominated as India's top 10 Successful young Entrepreneur in 2022.
Prestigious Yoga Bhushana Award.
Vishwa Yoga Nidhi Award.
Yoga Jyothi Award.
Rajyostava Award by Krishnarajapuram Yuvakara Sangha.
Paryavaran Dronacharya award (National level award from ICWESSAR, Rajasthan) for contribution in creating environment and wild life awareness).
Special Award by Students Association of Road Safety, Bengaluru Traffic Police.
Bharathiya Seva Dal awards.